Publish your project
for free and start receiving offers from freelance contractors in serveral minutes after publication!
350 ₴
Freelance projects › Исправить ошибки jQuery что мешают работе плагина калькулятора

Исправить ошибки jQuery что мешают работе плагина калькулятора
project complete
Нужно исправить ошибки, что мешают правильной работе калькулятора размещенного на странице. Калькулятор сделан через плагин cost calculator.
Страница на которой размещен калькулятор с ошибками в консоли https://osnova-bud.com.ua/1-2/
Пример ошибок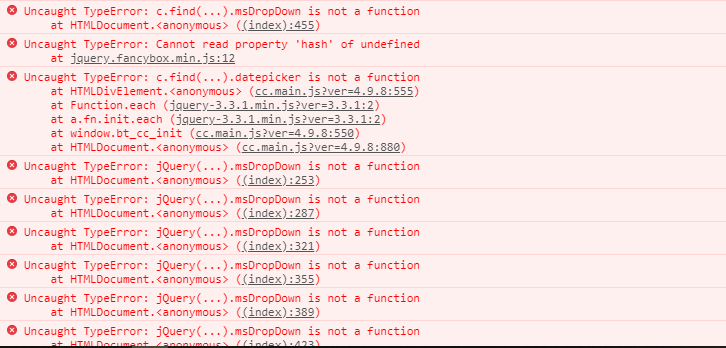 В результате вашей работы должен, нормально заработать калькулятор на странице. Пример работы калькулятора
http://preview.codecanyon.net/item/cost-calculator-wordpress-plugin/full_screen_preview/12778927
Client's feedback on cooperation with Oleg V
Исправить ошибки jQuery что мешают работе плагина калькулятора
Не первый раз работаем. Все быстро и качественно. Доволен сотрудничеством.
Freelancer's feedback on cooperation with Максимом Терещенко
Исправить ошибки jQuery что мешают работе плагина калькулятора
freelancer isn't working in the service any longer

proposal concealed by freelancer

freelancer isn't working in the service any longer

proposal concealed by freelancer

У вас две разные версии jquery подключены. одну надо убрать и все заработает.
почта - [email protected]
Скайп - mrog19

Ask your question to the client